Design and Drafting
Resources
3D CAD Modeling
Technology is changing drafting and drafting careers, and CAD is the main evolution.
Communicate design intent clearly with 3D CAD and bring your products to market faster.
PES delivers 3D CAD modelling services to industrial fabricators, sheet metal fabricators, machine shops, industrial equipment producers, service companies, drilling equipment manufactures and oilfield fabricators.
Our qualified team of 3D design professionals and mechanical engineers convert your 2D legacy design data to accurate 3D CAD part and assembly models using tools like SOLIDWORKS, Inventor and Fusion360.
We have enabled clients from diverse industry verticals in turning their 2D design processes to 3D through exceptional project management and unique engineering solutions.
Our goal is to help our engineering clients in minimizing design errors, comprehending engineering design intent clearly and bringing products to market sooner, and we do this through our expertise and experience in design support through CAD tools.
From small components to large assemblies and plant layouts, StoneWall has developed extensive experience in documenting design information in terms of 3D CAD models to support efficient manufacturing.
Our added knowledge in industry design standards such as ASME, ANSI, ISO and BS allows us to quickly integrate our services with your existing standard design processes, keeping your resources free from unnecessary rework.
Mechanical 3D Modelling Services
2D to 3D CAD Conversion

3D CAD Modelling for components, assemblies and plant equipment

3D CAD modelling for sheet metal design

3D product library for online catalog
Concept Models
Whether you're a professional, an amateur or just a dreamer with a sketch, a doodle, a design, a blueprint, a diagram, a 3D concept or even just a thought – you're in the right place.
We are a disruptive engineering company specializing in prototyping through 3D models, professional engineering, and 2D drawing techniques.
We add dimensions to your designs, designs to your sketches and at times even sketches to your dreams.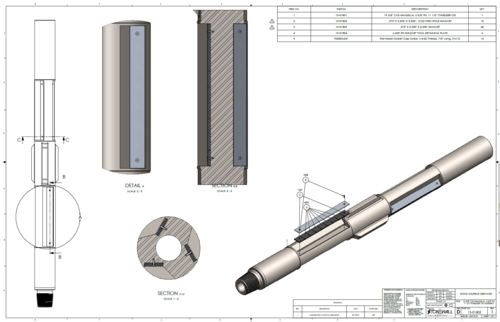 Assembly Prints
PES is a leading mechanical drafting and design services provider company offering highly accurate assemble drawings services for mechanical products and components to worldwide clients.
An assembly drawing shows how all of the parts of a multi-component design fit together, and are generally depicted as one or more orthographic projections.
One or more full section views are often used in assembly drawings to show necessary internal features. There are several different types of assembly drawings.
They are erection drawings, assembly working drawings, diagram drawings, part assembly drawings, and general assembly drawings.
Fabrication Drawings / Shop Drawings
PES is a Louisiana based fabrication drawings services company providing structural shop drawings, steel shop drawings, design for manufacturing drawing, machine shop drawings, and fabrication shop drawings services to fabricators, engineering and design build consultant, oilfield service companies, and industrial equipment suppliers.
Shop drawings are drawings, diagrams, schedules and other structural documents specially prepared for the construction work by the contractor or a subcontractor, sub-subcontractor, manufacturer, supplier or distributor to illustrate some portion of the structure work, which can represent findings from structural engineering reports.
P&ID Drawings
A piping and instrumentation diagram or P&ID is a diagram which represents the interconnection of process equipment and the instrumentation used to control the process by way of graphical symbols for equipment and piping as well as graphical symbols for process measurement and control functions. In the process industry, a standard set of symbols is used to prepare drawings of processes.
We offer a professional P&ID service. StoneWall's engineers will conduct an on-site evaluation of your facility, taking notes and measurements to create the P&ID's in CAD. Our engineers will also consult any relevant documentation needed to help them to create a detailed and accurate piping and instrumentation diagrams.
P&ID's are essential in the maintenance and modification of process equipment and instrumentation and are essential to engineers and technicians who intend to work on those process lines. P&ID's provide the basis for the development of system control schemes, allowing for further safety and operational investigations. Without up to date diagrams of as-installed processes, proper analysis, maintenance, and modification cannot be performed effectively or efficiently.
Patent Drawings
Our goal is to offer quality patent drafting services, in a timely manner, and at a reasonable cost to the Intellectual Property industry.
PES is a full service patent illustration and drafting company located in Lafayette, LA that serves companies and patent law firms across the US.
We are qualified to deliver anything from a simple flow chart to even the most complex mechanical cases and design case applications.
Design for Manufacturing
One of our most popular services is our DFM service for both new or existing product designs. Products that are currently in use or new products that are ready to be marketed, must be designed with manufacturing costs in mind.
In most cases, these products are designed to perform specific functions and may perform quite well, but the cost to product these products may drive a market price that is too high, making the product noncompetitive in the marketplace.
Do you get our newsletter?
Don't be left out - sign up to receive the latest insights and news delivered straight to your inbox.